Smarter Way to Buy a Home in Miami
Whether you're a first-time home buyer or an experienced investor, our team provides a customized and seamless home-buying experience. We'll guide you throughout your property search, negotiation, and closing stages to ensure a successful journey.
Miami real estate offers a wide range of opportunities for those looking to purchase a property, with prices ranging from affordable starter homes up to luxury beachfront estates. From researching neighborhoods to showing you available properties to negotiating on your behalf, we will be with you every step of the way.
Buying a home is the largest investment most people will make in their lifetime. Knowing what you want, your budget, and working with an experienced realtor are keys to ending up on top of this big decision.
Right Price for Your Dream Home
Search, negotiate, make an offer, close, and celebrate!
Step by step guidance through the home buying process.
Premium Residential Real Estate Services for Home Buyers in Miami
Buying a home is one of the most exciting and rewarding experiences, but it can also be overwhelming. It's time to experience home buying like never before. We'll be your guide through the entire home buying process in Miami, from researching neighborhoods to negotiating a great deal.
Download Our Buyer's Guide
Wondering what it takes to buy your own home? We've compiled a comprehensive buyers guide for all of the information you need.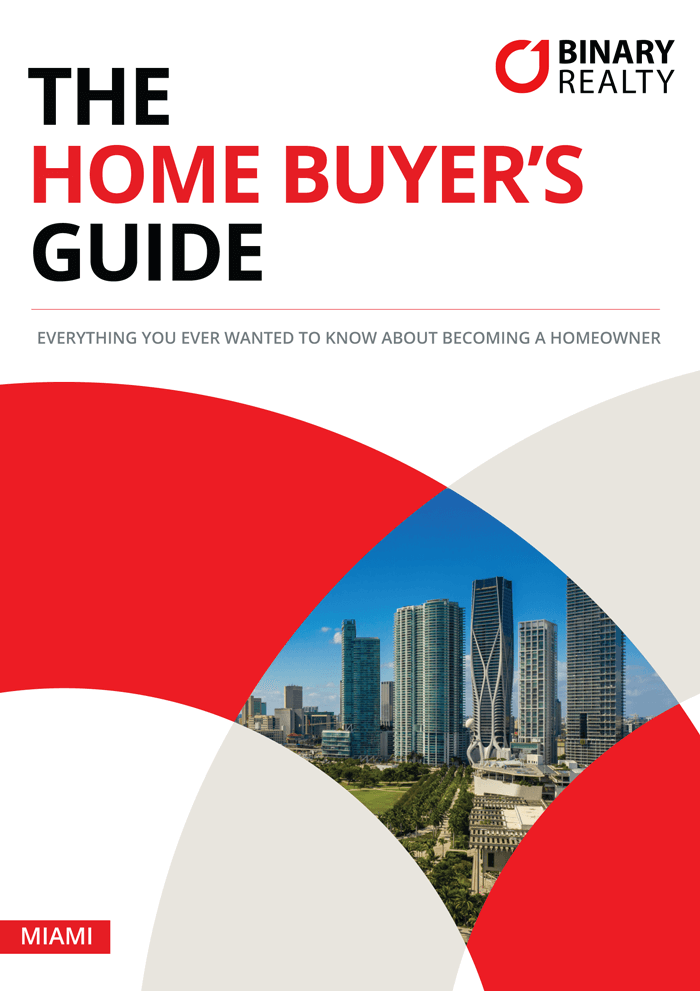 Tour the newest condos and apartments for sale in Miami
Miami Luxury Condos for Sale
View 3D virtual tours, photos, schools, and listing details
South Florida Luxury Homes for Sale
First-Time Home Buyer's Glossary
Adjustable-Rate Mortgage (ARM)
An adjustable-rate mortgage (ARM) is a type of loan in which the interest rate applied on the outstanding balance varies throughout its life.
Agency
The relationship between a principal and principals agent arises out of a contract, either expressed or implied, written or oral, the principal implying the agent to do specific activities dealing with third parties.
Appraisal
An appraisal is a valuation of a property's market value by the estimate of an authorized person.
Bidding War
A bidding war is when two or more buyers are interested in the same property and make increasingly higher offers to secure ownership over the home.
Closing Costs
Expenses that buyers or sellers must pay in addition to the purchase price of a property.
Closing Statement
The miscellaneous expenses buyers and sellers usually incur in the transfer of the real property over and above the price and received for the property.
Comparative Market Analysis (CMA)
Comparative Market Analysis (CMA) is an estimate for a homes' value based on recently sold properties in its immediate area with similar features.
Deed
A written instrument which, when signed and delivered (executed), conveys title to real property from one person (grantor) to another (grantee).
Discount Points
Discount Points are prepaid interest or fees that borrowers can purchase to pay lower interest on future payments.
Down Payment
A down payment on a house is the up-front payment you have to make to secure your loan. Most mortgage lenders require that consumers make cash payments of 3% – 20% to get approved.
Escrow
Escrow is a legal concept in which the buyer and seller are guaranteed to get what they pay for because an impartial third party holds it until their obligations have been met.
Escrow Instructions
Directives an escrow officer undertakes as given by buyer and seller, or lender and borrower to coordinate the closing on the purchase agreement or mortgage origination.
Fixed-Rate Mortgage
A fixed-rate mortgage has one rate that locks in for the entire term of the loan.
FHA Loan
Federal Housing Administration (FHA) loans allow buyers with as low as a 3.5% down payment and 580 FICO score to purchase homes, helping those who may not have the savings or creditworthiness for other types of mortgages.
Home Inspection
A home inspection is a noninvasive, structured examination of the different mechanical, electrical, and plumbing systems in a house, as well as any structural components such as roof, ceiling, walls, floors, and foundations.
Loan to Value Ratio
A ratio stating the outstanding mortgage balance as a percentage of the mortgaged property's fair market value.
Parcel
A three-dimensional space of real estate identified by a legal description.
Purchase Agreement
Commonly used in real estate transactions, this document is often considered a checklist to negotiate a real estate sale between the buyer and seller.
Mortgage
A mortgage is a loan that helps you buy a home. The home is used as collateral, and the payment includes principal, interest, taxes, and insurance.
Real Estate Owned Property (REO)
A house or piece of property that a mortgage lender acquires in the event of foreclosure.
Realtor®
Realtor® is a professional designation for a real estate professional who is a member of the NATIONAL ASSOCIATION OF REALTORS® and subscribes to its strict Code of Ethics.
Title
Ownership of a property indicates the lawful right to occupy, use, and enjoy it without interference from others. The bundle includes an owner's rights to possess and dispose of the property as he or she chooses (e.g., for sale), exclude others from owning it, convey ownership interests to beneficiaries in a will or trust, etc.