Our experts have expertise in data center facilities and can help you with investment, sales, development, and leasing options. With our extensive knowledge of local markets and the data center industry, we can identify opportunities and help you succeed in this field.
South Florida Data Center Solutions
The increasing use of cloud computing and data storage due to digitalization will cause a rise in demand for data center space. This demand can provide a stable investment opportunity for commercial real estate investors with potentially high returns.
Adding data center industry investments to a portfolio can offer diversification as data centers are typically leased to a variety of tenants, such as major technology companies and government agencies, resulting in a diverse range of tenants and industries for investors.
Despite the high costs of construction, investing in data centers can be very profitable. Once operational, data centers have low operating expenses and high-profit margins, making them an attractive investment opportunity for investors looking for significant returns.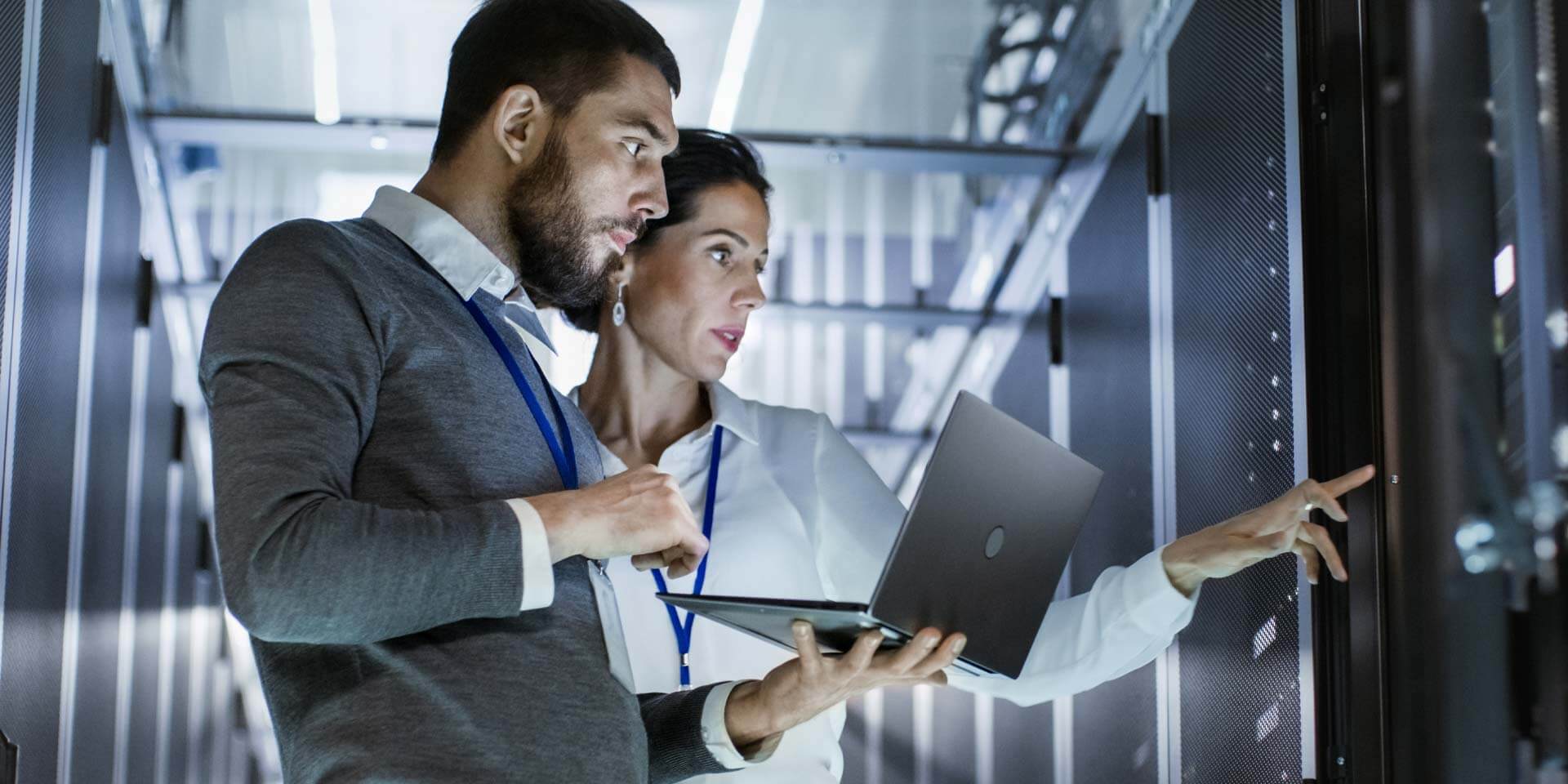 Invest in Miami's Data Centers
Investing in data centers in Miami offers a unique opportunity for investors seeking solid and reliable returns. Data centers are becoming increasingly important as businesses rely more on technology. Miami's strategic location, robust infrastructure, and favorable climate make it a desirable destination for data center development. Our team at Binary Realty specializes in data center advisory and can provide expert guidance on investing in this dynamic and growing industry.
Data Centers and Commercial Real Estate: The Perfect Match for High Returns in Miami
Our team of data center experts has extensive experience in assisting investors and occupiers of data centers. We offer personalized services to help you make informed decisions about investing, selling, or leasing data centers tailored to your needs.
Valuation & Advisory: Our expertise lies in assessing and advising on data center assets. We analyze market trends, determine the assets' value, and guide our clients to maximize their investment returns.
Capital Markets: Our team can help you secure financing for your data center projects by providing access to capital markets. With our expertise, we can structure financing solutions tailored to projects of any size.
Site Selection & Acquisition: We help clients find the ideal location for their data center needs by offering expert site selection and acquisition guidance.
Build to Suit: Our team provides customized data center facilities through our build-to-suit services. We take care of the entire process, which includes site selection, design, and construction to meet our clients' specifications.
Dispositions: Our team has extensive experience in data center dispositions, helping clients sell their existing data center assets for maximum value.
Landlord Representation: We help data center owners lease their facilities by providing landlord representation services, including lease negotiations, marketing, and tenant acquisition.
Market Research and Analysis: We offer comprehensive market research and analysis services to aid clients in making well-informed decisions regarding their investments in data centers. We examine market trends, supply, and demand and deliver detailed reports that enable clients to make decisions based on data.
Leasing and Advisory: We provide leasing and advisory services to clients interested in leasing data center space. Our team helps negotiate lease terms and offers expert advice throughout the leasing process.
We offer assistance in every aspect of the Miami data center industry, including site selection, acquisition, leasing, and advisory services. Our customized data center solutions are designed to meet your specific needs and yield optimal outcomes.
Frequently Asked Questions about Investing in Miami Data Center Solutions
1. What are data centers, and why should I consider investing in them?
Data centers are specialized facilities for storing, processing and managing large amounts of digital data. They typically house thousands of servers and related equipment, such as storage systems, networking devices, cooling, and power distribution units. Data centers are designed to provide a secure, reliable, and efficient environment for data-intensive applications, such as cloud computing, big data analytics, and artificial intelligence.
Investing in a data center offers many benefits, including high-profit margins, low operating costs, forward-thinking infrastructure, increasing demand due to the growth of cloud computing and the need for data storage, long-term leases with reputable tenants, stable cash flows, and potentially high returns on investment.
2. What types of tenants typically lease space in data centers?
Cloud providers, internet providers, financial services firms, healthcare providers, and government agencies are some examples of tenants using data centers. These tenants need significant computing power and storage capacity and are willing to pay more for reliable and secure facilities.
3. How do data centers compare to other types of commercial real estate investments?
Data center investments typically yield better returns, provide longer lease terms, and offer more stable cash flows than other types of commercial real estate investments. Nonetheless, data centers demand substantial initial capital investment and could be more complicated to manage than other property types.
4. How can I mitigate the risks associated with investing in a data center?
Investing in a data center can be a lucrative opportunity, but it's crucial to minimize risks. It's essential to conduct extensive research involving evaluating financial and operational data, examining the data center's physical infrastructure, and analyzing market trends. Working with experienced professionals, such as a commercial real estate brokerage, is also crucial, who can offer investment advice and help identify potential risks. Additionally, a disaster recovery plan can safeguard investments by providing a contingency plan in case of unexpected events. By following these steps, investors can make informed decisions and increase their possibilities for successful data center investments.
5. What factors should I consider when evaluating a data center investment opportunity?
If you're assessing a data center investment opportunity, it's important to consider key actors such as the location and quality of the facility, the tenant mix and lease terms, the financial stability of the tenant(s), the management team, and the overall market demand for data center space.
6. What is the outlook for the data center industry in the coming years?
The demand for data center space is expected to increase due to the growth of cloud computing and new technologies like artificial intelligence (AI) and the Internet of Things (IoT). As a result, cloud providers require more space to hold computing power and storage capacity, making data centers a potentially profitable investment opportunity for investors.
7. What are the different types of data centers?
There are various types of data centers, each with its distinct characteristics and objectives. Here are some of the primary categories:
Enterprise data centers: Large organizations operate privately-owned data centers to support their IT infrastructure and business operations.
Colocation data centers: These facilities are available for multiple tenants to store their IT equipment and include amenities such as space, power, cooling, and network connectivity.
Managed services data centers: Third-party service providers operate these data centers and offer various managed services to their clients, including infrastructure management, security, and monitoring.
Cloud data centers: Cloud providers such as Google Cloud Platform, Microsoft Azure, and Amazon Web Services operate some of the largest data centers in the world. These data centers offer cloud computing services to customers who pay based on their usage.
Hyperscale data centers: These are huge data centers that cater to the extensive computing requirements of global corporations like Google, Facebook, and Amazon.
Edge data centers: These types of data centers are located in urban areas nearer to end-users, with the aim of offering low-latency access to data and applications for users in that area.
How Can We Help You Today?
Have questions or need to connect with your local agent? We've got you covered.